prh-22 : (Power Supply for Random Generator prh-ZG1)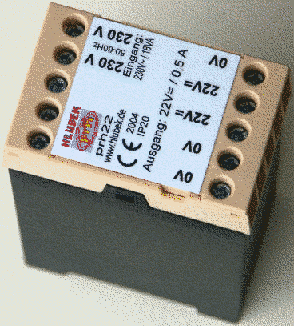 Short Circuit Protected Power Supply 22V DC / max. 0,5 Ampere
This simple but robust power supply is not stabilized by electronics but it provides following security items:
1. A short circuit protected security transformer (18VA), which is internally fused by temperature sensors and switches.
2. A resetable fuse in secondary circuit, which additionally protects against overheating caused by short circuit on the low voltage side.
3. A strong bridge rectifier (8A with 3.300µF/50V load capacitor).
The rugged box with its ten terminals for screwdriver also provides the connectivity to 230V~ mains. With full load (0,5 Ampere) the output voltage is even higher then 22 Volt .
Above all this the power supply is able to supply up to four random generators
prh-ZG1 simultaneously.